Understand Quran with
5 Golden Rules
This website for those who know how to read the Holy Quran but don't understand the meaning of it.
May Allah SWT guide us.
Get Started
Believe the certainty
Verse 54.17 narrates, Quran is made easy for us. Let's believe the certainty of the verse. What you believe that becomes your destiny!
All are Welcome
Use laptop for better user experience.
Stress-free learning process
QuranMadeEasy.com is designed with everyone's busy schedule in mind. There is nothing to memorize. One can go deep into the Quran with fully aided multi-tab panel. Understand first memorize later.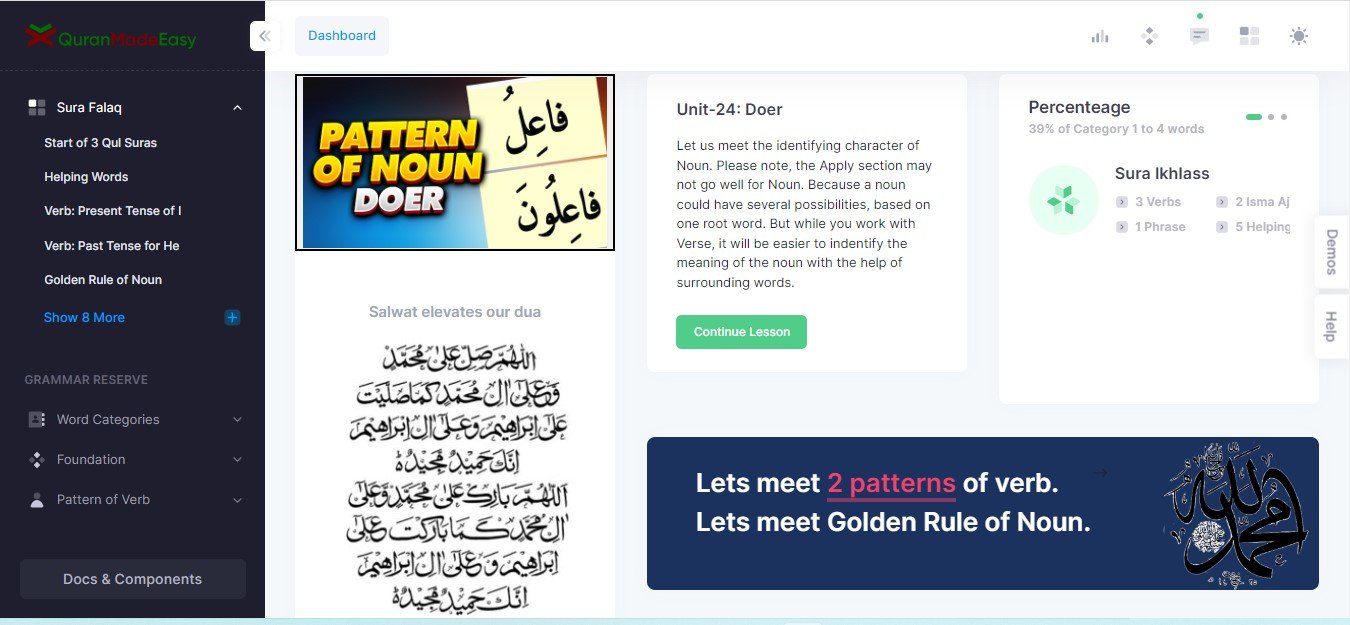 Main study Objectives
Following are the part of total learning process:.
Timeline
The best stories are told from start to finish. Learn module by module.
Preparation
Meet Getting Ready Modeule. This module will prepare you for the journey ahead.
Initiation
First sura is Sura Ikhlass. One sura - one module. Understanding Quranic words, one sura at a time.
Enrichment
As we move forward, we are enriched with Grammar Reserve. It will help suras that are coming ahead.
Enlightenment
Our prayer to God, as we progress through each sura, bless us with spiritual enlightment.
Watch the Demo
Main features
Objectives
Word Categories
Golden Rules
Great Translators
Dashboard
Importance of Salwat
Start Learning by 4 Steps
Learn step by step and go deep into the understanding of the Holy Quran.
Step 1
Register
Enter your primary email address and a password. Confirm your email and login. You can also login with Social Media Accounts.
Step 2
Watch the Demo
Understand how QuranMadeEasy works. The Demo presents 19 features. This will give you overall understanding of the website.
Step 3
Repeat
Watch the videos tutorials. Then, complete quizzes to reinforce what you learned immediately. Repeat this with every new sura.
Step 4
Reflect
This is the Book (the Quran), whereof there is no doubt, a guidance to those who are Al-Muttaqun. [2.2]